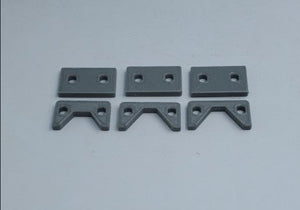 Part numbers:
7050
705.073
405.073
705.0737
707.013 
Set of BRAND NEW polyurethane wipers for a Harrison metal lathe.  These are 3D printed in grey or black color.
Made from flexible polyurethane material and are resistant to chemicals and abrasion.  

These will not harden like the original OEM rubber wipers.
Replaces OEM wipers on Harrison M350 15" metal lathes.  

Set includes:
2 Vee Carriage wipers

2 Straight Carriage wipers
2 Tailstock wipers (one Vee & one Straight)


Color may vary.
If you need new flexible wipers for other metal lathes, please contact us.  
We can make custom wipers for just about any lathe in a variety of materials including polyurethane rubber, plastic and felt or even a combination.....let us know your needs.