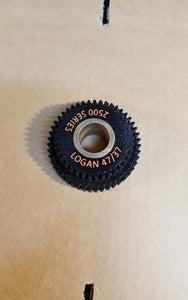 LOGAN METAL LATHE METRIC TRANSPOSING GEAR  3D Printed NEW
Transposing gear set for a Logan 12" & 14"  2500 Series metal lathes.  This is a 3D plastic printed gear set.
Gear Face Width = .625" (5/8")
Overall Width = 1.25" (1-1/4")
Bushed Center bore = .9375" (15/16")
Teeth are 16DP
This combination gear (47/37) is commonly used for transposing the speeds on metal lathes for cutting metric sized threads. While not truly perfect, the margin of error is .021% or .0026" per foot.