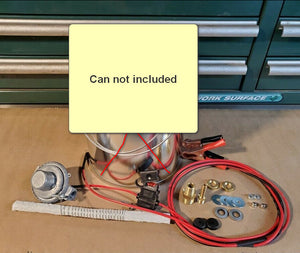 Kit to build EVAP Smoke Machine Emissions Vacuum Leak Detector Tester DIY NEW
Looking for a cheaper alternative than buying a pre-assembled smoke machine?  Then try this DIY build kit.
We are transitioning out of the EVAP Smoke Machine business simply due to the number of competitors and them offering lower quality units at prices below where we can actually make any profit.
With that said we will be selling off our remaining inventory of parts that we have.  
Here is what you will be getting and the picture probably says the most:
Everything needed to build an EVAP smoke machine with the exception of the paint can (saves shipping cost).  You will need to assemble this kit yourself.

Heating element - preassembled already

Wire harness comes pre-assembled.  You get the wire, the terminals attached, the fuse holder soldered on, the clips soldered on and connections covered with heat shrink. 

High quality regulator

All the fittings, nuts, washers, grommets, to assemble this unit.




You can put this together in less than a half hour and be on your way to fixing your vehicle.




Buy with confidence that these are all high quality parts.  I think our feedback says the most of our product line(s).