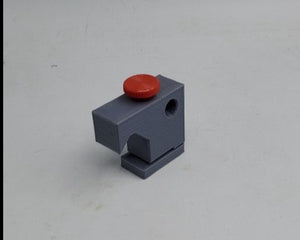 GRIZZLY G9972 METAL LATHE DIAL INDICATOR MOUNT CLAMP 3D Printed


Rust resistant non-marring plastic version
Fits any dial or digital indicator with a .375" diameter

Fits Grizzly G9972 Lathe

This indicator mount is made from really tough & durable 3D printed plastic. This eliminates the chance of scraping or nicking the ways on your lathe bed. 

The design of this tool guarantees that the travel of the indicator is parallel to the way of the lathe. This also allows the indicator to be removed for other uses without having to realign. 

The top mounted adjustment knob allows for easy loosening, adjusting to another location and easy re-clamping (an awesome feature). 


This sale is for the indicator holder only. Please note that any pictured lathes, indicators, and other tooling are not included. 

If you need one of these set up for a metric dial indicator (normally 8mm indicator shank), let us know, we can custom make one to fit your needs 

Please contact with any questions.