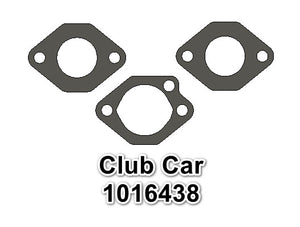 Replaces
Club Car Golf Cart DS Precedent 1992 & Up
3 Pcs. Carburetor Mounting Gaskets
Replaces Part Numbers: 1016438, 1016439, 1016441
Please look-up your equipment online and verify this gasket kit Before ordering
Specifications:

Premium Fiber Composition
Gasoline, Oil resistant

Made in the USA. aftermarket
This 3 pc Kit Includes:
Carb to Intake Gasket

Insulator to Throttle Bracket Gasket

Throttle Bracket to Carb Gasket
Complete set of gaskets used when rebuilding or replacing the carburetor on your 1992 and Club Car Golf Cart. Designed specifically for the FE290 and FE350 engines. Commonly found in the Club Car DS/CarryAll models thru the 1990's. Also used in the Precedent models 2004 and up thru 2013. 
REPLACES 
OEM Part Numbers - 1016441 1016439  1016438