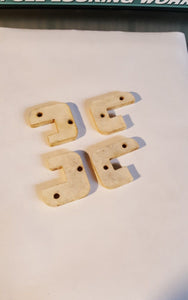 Atlas 7B Metal Shaper Felt Wiper Set Ram & Cross Slide S7-154 & S7-157
We are pleased to be able to offer these brand new replacements to owners of these fine vintage American machines made by Atlas.
These precision cut, hard white felt wipers are mounted as a set of 4 on the ram and cross slide providing protection from chips damaging the bearing surfaces between the ways and the ram or cross slide.  Absorbent nature of these felts allows oil to soak into them which keeps a thin film on your ways at all times.
These wipers cross reference to the original Atlas part number S7-154 & S7-157 . Wipers are sold in sets of 4 (2 for the ram and 2 for the cross slide) and are very reasonably priced compared to OEM or used parts so don't miss out on a chance to pick up a set for your Atlas Shaper.
Made from 1/4" thick felt material and still fit in the original wiper retainer.  
These wipers take the place of both the original felt as well as the original rubber wiper.   Soak with oil prior to installation to ensure a good soak.