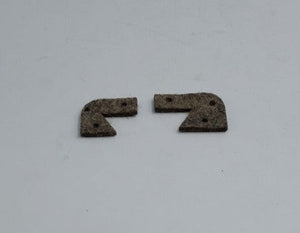 BRAND NEW Aftermarket Felt Oilers for Ammco 7" Model 27-100 Metal Shaper
We are pleased to be able to offer these brand new replacements to owners of these fine vintage American machines made by Ammco Delta-Milwaukee.
These precision cut, felt wipers are mounted as a set of 2 on the ram providing protection from chips damaging the bearing surfaces between the ways and the ram. Absorbent nature of these felts allows oil to soak into them which keeps a thin film on your ways at all times.
These wipers cross reference to the original Ammco part numbers:
S15-14
Wipers are sold in sets of 2 and are very reasonably priced. Don't miss out on a chance to pick up a set for your Ammco
 Shaper.
Color may vary.